PALADIN RISK SOLUTIONS WELCOMES MICHAEL LANGLOIS
March 2, 2022
Vancouver, BC.
Paladin Risk Solutions Inc. (PRSI) is excited to announce the appointment of Michael Langlois as Director of Risk.
Michael is a highly accomplished Security Risk Management and Certified Protection Professional with over 15 years of experience designing and overseeing risk mitigation and security programs.
Michael has assisted corporate clients with security strategies in the oil and gas, mining, critical infrastructure, and transportation sectors and has provided operational management for the provincial and municipal government. He has successfully developed and coordinated numerous security and safety policies and procedures and implemented multiple large project plans and deployments. His proven experience has impacted public safety and corporate security strategies, programs, and initiatives.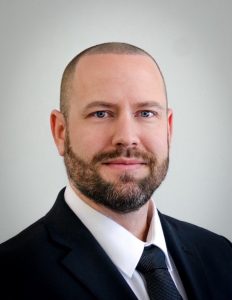 Previously, Michael served as the Head of Security for an international corporation, publicly traded on the TSX and NASDAQ exchanges. He aligned the priorities with company goals, KPI, and program metrics for security priorities, employee safety, and business decision-making. He was instrumental in establishing a gold standard program for security operations, employee and public safety, technology-based controls, and creating emergency management response and recovery plans.
Michael is well-known for human safety and security compliance training, having designed, and delivered knowledge and competency-based training on a national level. He is an innovative and strategic thinker and will apply his experience and energetic approach to his new role, partnering with clients to understand their complex issues and provide solutions that will enable business continuity.
"I am excited and confident to provide clients with valuable solutions by Paladin, supporting their security and risk mitigation needs and contributing to their success strategies." - Michael Langlois, Director of Risk.
"I have worked extensively with Michael in the past, and I look forward to the energy and experience that he will bring to the Paladin Risk Solutions team. His onboarding further enhances our expertise in management and leadership in the risk arena. Welcome, Michael!" - Robert Burns, President. 
Michael is a Certified Protection Professional (CPP) and member of ASIS International. He holds Secret Security Clearance with the Government of Canada and CTLS Clearance with Health Canada. He demonstrates leadership through coaching and mentoring security professionals, and he will be a tremendous asset to the Paladin Risk Solutions team.
Please join us in welcoming Michael to Paladin Risk Solutions!