December 22, 2021
Vancouver, BC.
Paladin Risk Solutions Inc. (PRSI) is thrilled to announce the appointment of Ian Henderson as Security Manager - Special Projects. Ian transitions from the Protective Services Division of Paladin Security Group to manage Special Projects at Paladin Risk Solutions.
Ian has over 20 years of experience in the security industry, and as a result, he has a strong understanding of client expectations for professionalism. Ian upholds professional ethics, values, and standards and ensures his team delivers the highest level of service, unparalleled in the industry.
Ian has worked in Security since 1999, where he started his career as a Security Officer in Vancouver's highest-crime area. Through hard work, dedication, and training, Ian advanced his career from retail security and mobile field operations to quality assurance and account management. He further enhanced his capabilities in protective services and close protection.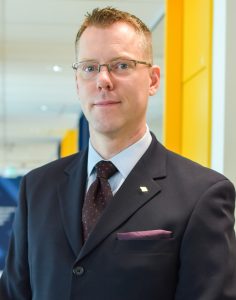 Ian has a keen interest in professional development. He has over ten years of experience as an instructor, training front-line security staff, and he has obtained several instruction certifications. He has developed site-specific training programs for Paladin's clients, and he continues to collaborate with subject matter experts to develop training initiatives.
Ian is an active volunteer with Canadian organizations: ASIS Canada, where he serves as the Regional Vice President jointly overseeing the National Young Professionals program - aimed at providing education and development to young security careerists, Scouts Canada, and the Vancouver Operation Cooperation - a partnership between Law Enforcement, Private Security Organizations and Private Businesses.
"Ian is a consummate professional with over 20 years of experience. His reputation as an industry leader, Use of Force Instructor, and security professional is exemplary. I am pleased to welcome him into the Paladin Risk Family." - Vice President Tim Houghton.
"I am very excited to join such a talented team of professionals, and I look forward to learning as much as I can from my new colleagues and clients," - Ian Henderson.
When clients need an enhanced security presence to mitigate a high-risk situation, Ian and the team of risk and security specialists at Paladin Risk are ready to respond.
Please join us in welcoming Ian to Paladin Risk Solutions!