The recent addition of Tyler Argue to Paladin Security's investigations team, will allow us to strengthen our services and expand our presence across Canada.
Calgary, AB – Paladin Security is excited to announce its newest Manager of Investigation Services of Alberta, Tyler Argue.
In his role, Tyler will lead teams of investigators in Surveillance, Special Investigation, and Corporate Risk Mitigation. His proven ability in P.E.A.C.E. model interviewing has also made him a reputable investigator amongst industry colleagues. The complex investigations that Tyler has conducted across Canada include, but are not limited to:
Workplace conduct
Organized fraud rings
Corporate & insurance fraud
Wrongful death & fire claims
Claim inflation & copyright infringement
Break and enters & transportation audits
Staged collisions, cloned vehicles & cargo theft
Tyler is well versed in insurance policy, evidence continuity, and forensic interviewing best practices. He has also provided litigation support in investigative matters to some of Canada's premier law firms, businesses, and corporations.
With Tyler's expanded knowledge of the insurance industry and investigations, we look forward to providing our clients with expanded services in Alberta, as well as nationwide. We are proud to offer our clients with coast to coast risk mitigation services through our local experts and global experience.

- Mike Lantz, Director of Investigation Services
Serving eight years as a Firefighter, Tyler later achieved his designation as a Canadian Certified Fire Investigator CCFI-C. During this time, he also obtained EMT certification while completing education in the United States. In 2008, Tyler was recruited by the Royal Canadian Mounted Police, where he later went to train at Depot Division in Regina, Saskatchewan.
Through active community engagement, Tyler solidifies his industry commitments in the detection and prevention of fraud. He currently serves as Regional Director of the Canadian Association of Fire Investigators (CAFI) and as Director at Calgary Crime Stoppers. Tyler is also a member of the Association of Certified Fraud Examiners (ACFE).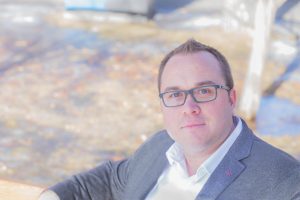 It is an exciting time in the industry to be a part of the Paladin Team! The energy felt throughout the company is tangible and speaks to the Award-Winning Corporate Culture, which has been carefully fostered. Certainly, this is what defines us from any other competitor and why I decided to join Paladin Security. With Paladin's steady growth and expansion of services, we can continue offering our clients the best solutions on the market, while promoting talent from within. This is truly a recipe for success!

- Tyler Argue, Manager of Investigation Services, AB
Investigation Services at Paladin Security
At Paladin Security, our teams are comprised of investigators who have backgrounds ranging from regulatory compliance, insurance as well as specialized law enforcement units. We consistently provide our clients with real-time information, allowing them to make strategic decisions for their organizations.
Our investigators provide a variety of services, including:
Surveillance
Open Source Analysis
Undercover Operations
Discover our specialized investigation services and techniques here.
Learn about the benefits of Paladin's Open Source Intelligence Techniques here.
About Paladin Security Group Ltd.
Established in 1976, Paladin Security has grown into the largest privately-owned, full-service security company in Canada. Paladin provides high-profile, customer-service oriented Security Officers with the highest levels of training in the industry. Additionally, Paladin offers a variety of specialized security and investigation services, state-of-the-art security systems, and parking management services. For more information, please visit paladinsecurity.com.